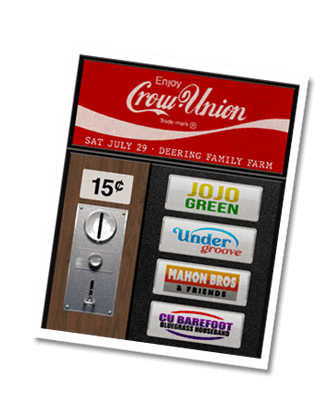 › 2PM gates Sat/July 27th, 2024 for EARLY HAPPY HOUR & camp set-up ~ Music @ 5PM
› Evening camping guests – please plan to pitch tents prior to sunset.
› The 16th Annual Crow Union Music Festival will be held RAIN (barn) or SHINE (stars)!
Here is what we need from you:
You must be 21+ to attend
You BYOB – we provide the bar "set-ups" (ice, glasses, mix, soda, water, garnish, etc)
You bring a tasty pot-luck dish/snack (REQUIRED FOR ENTRY) to add to the communal buffet that will feed us for the evening – this HUGE as the diversity and quality of food builds each year
You can bring coolers and chairs if you please (we provide hay bales)
If you plan to CAMP (FREE) – earlier the better for availability of firewood/ rings
TICKET INFO:
We permit a limited attendance, so plan to get tickets now!
You must get a pre-sale ticket prior to the event ($25/person donation/PayPal preferred) to become part of "The Village" … Easy as pie.
THERE WILL BE NO GATE ADMISSION – A pre-sale ticket

is necessary

for admission.
The "Village Board" (listed below) will be pre-selling, so feel free to contact any of them to acquire tickets. (PayPal preferred)

We now have a

cap on attendance – so get tickets early to be sure you aren't shut out!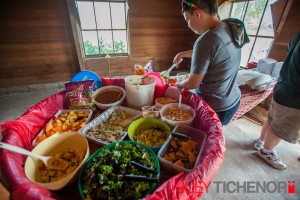 Drop any of us a line for tickets or questions … Otherwise we'll see you on the 27th!
We hope the summer of 2024 finds you all happy and healthy. ~ The Village Board.
Michael Deering (612-360-7789)

Cathy Deering (651-470-5120)

Brad Deering (952-297-5504)

Dallas Jr Capesius (612-207-1585)

Kevin Deering (952-999-6213)

Patrick Deering (218-640-3944)

Bryan Delorme (612-867 6049)

Luke Kujawa (612-865-8879)

Charley Cummings (612-558-6769)

Mikey Spaulding (507-581-0894)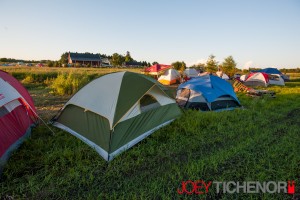 Deering Farm
7920 Union Ave
Mayer, MN 55360